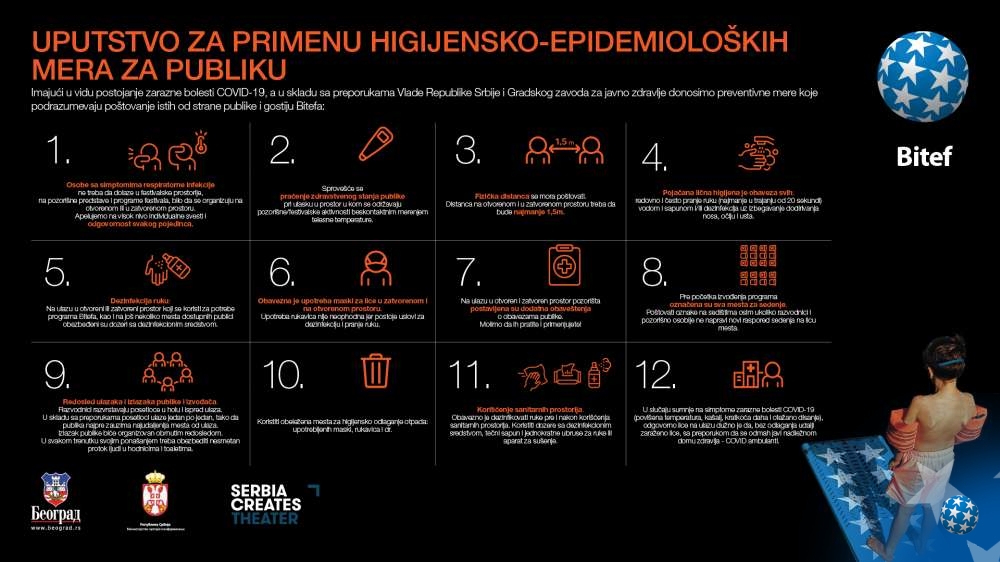 1. Persons with respiratory infection symptoms should not attend festival venues, theatre performances or festival programs, regardless of whether they are held indoors or outdoors. We request that every visitor exercise a high level of individual awareness and responsibility.
2. The health of audience members will be monitored when entering the venue of the theatre/festival activity, through contactless body temperature measurement.
3. Physical distancing must be exercised. The outdoor and indoor distance between individual should be at least 1.5m.
4. Increased personal hygiene is mandatory: Regular and frequent handwashing (lasting at least 20 seconds) with soap and water and/or disinfection, while avoiding touching the nose, eyes and mouth.
5. Hand disinfection: Disinfectant dispensers are available for audience members at the entrance to the indoors and outdoors Bitef venues, as well as at several other locations.
6. Masks are mandatory at both indoor and outdoor venues: The use of gloves is not required since disinfectants and handwashing are available.
7. Additional instructions for audience members are posted at the entrance to the indoor and outdoor venues. We kindly ask that you read and follow them!
8. Available seats are clearly marked. Please take your seats unless instructed otherwise by the ushers or theatre staff.
9. Order of entry and exit for audience members and performers. The ushers will arrange the audience members in the hall and in front of the entrance. Audience members will enter one at a time, starting with the audience members seated furthest from the entrance. The exit of the audience members will proceed in reverse order. We ask that you allow for the unimpeded passage of individuals in the corridors and toilets at all times.
10. Please use designated places for disposal of waste: used masks, gloves, etc.
11. Using the toilets: Please disinfect your hands before and after using the toilets. Disinfectant dispensers, liquid soap and disposable hand towels and hand dryers are available.
12. In the event of suspected COVID-19 infection (fever, coughing, shortness of breath and breathing difficulty), staff members are required to immediately remove the person from the venue, with the recommendation that they immediately visit a COVID-19 clinic.
For Bitef Theatre
Miloš Latinović, director